We are proud of our reputation here at GTS Development Ltd as experts at garage conversions. Once you've decided on a garage conversion, working with trusted experts is a must. With years of experience within the industry, we have become specialists at managing the conversion of garage spaces, leaving our customers with excellent conversions which are both practical and safe.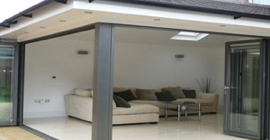 The common garage area is smaller than the traditional room, and our designers take this into consideration before any building work begins. We cast a professional eye over the available space and offer designs based on your intended usage, providing invaluable advice about the available space. Whether your garage conversion is an extension of an existing room to create more living space or to convert the garage into two smaller rooms, we will provide the most suitable designs based on your ideas for the space available.
We consider all building regulations including moisture proofing, fire proofing, ventilation and structural integrity so that your garage conversion is safe and does not infringe upon regulations. Our experts survey, consider and design plans which include any necessary plumbing and wiring, including rewiring and additional power supplies, so the functionality of your conversion is optimal.
We also take the time to ensure that the flooring between the household and garage space is equal and that required floor installation is laid to a high standard and cost-effective. A garage conversion provides extra space for your home and adds value to your property. We believe your conversion should be built with quality and safety in mind.